Fr. Titian Jim Miani, S.D.B.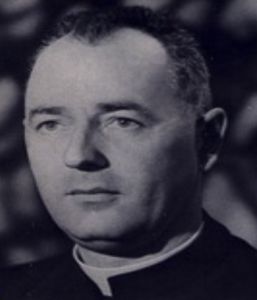 Ordained: 1955
Assignments:
1955-1957: St. Francis School, Watsonville, CA
1958-1959: St. John Bosco High School, Bellflower, CA
1959-1963: Bishop Mora Salesian High School, Los Angeles, CA
1964-1966: St. John Bosco High School, Bellflower, CA
1967-1968: Salesian High School, Richmond, CA (OAK)
1969-1972: Saints Peter and Paul, San Francisco, CA (SFR)
1972-1981: Holy Cross, Linden, CA
1981-1985: St. Patrick's, Angel's Camp, CA; St. Patrick's, Murphy, CA; Our Lady of the Sierra, Arnold, CA
1985-1993: St. Luke's, Stockton, CA
1993: Retired
1994-2018: Unknown
Notes: Fr. Titian Miani is a Salesian priest who worked in four California dioceses—Los Angeles, Oakland, San Francisco, and Stockton. He has been accused of sexually abusing at least four children and has been named in at least three civil lawsuits alleging child sexual abuse. In 1947, while he was still in Italy, Fr. Miani was accused of assaulting a boy during a church retreat in Perdonone. After the abuse was reported, church officials allegedly sent him to do mission work with children in Brazil. Later, he worked at St. Mary's Home for Boys in Edmonton, Alberta, Canada, where he was accused of sexually abusing at least three students. Between 1959 and 1963, Fr. Miani was accused of abusing two high school-aged boys while working in the Archdiocese of Los Angeles. He went on to work at parishes and schools in the Archdiocese of San Francisco and the Diocese of Oakland. Fr. Miani left the Salesian order in 1974 and was incardinated into the Diocese of Stockton. In 1993, a woman reported to the Vicar for the Clergy's office in Los Angeles that she was sexually abused by Fr. Miani in approximately 1970 when she was in about sixth grade, and that Fr. Miani continued to sexually abuse her for several years. The Diocese of Stockton allegedly removed Fr. Miani from active ministry in 2002. In 2003, Fr. Miani was arrested and criminally charged with having sexually abused two girls in the 1960s in Bellflower. According to a 2008 lawsuit, Fr. Miani is believed to have abused more than 12 children in his two stints at St. John Bosco High School in Bellflower. Fr. Miani was included in the Archdiocese of Los Angeles' list of priests accused of sexual misconduct involving minors. As part of its bankruptcy proceeding, the Diocese of Stockton included Fr. Miani in its list of claimed abusers. As of 2008, Fr, Miani was believed to be living in Stockton, California. Fr. Miani's current whereabouts and whether he has access to children are unknown.