Fr. Mark A. Finan, S.J.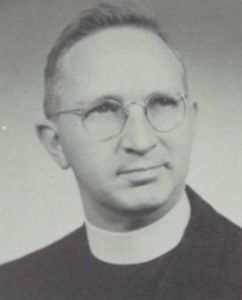 Ordained: 1948
Assignments:
1949 Indianapolis College/West Baden College, West Baden Springs, IN (IND)
1950 Tertianship, Auriesville, NY (ALB)
1951 Graduate student, St. Louis University, St. Louis, MO (STL)
1952 St. Francis Xavier, Cincinnati, OH (CIN)
1953-1955 University of Detroit, Detroit, MI (DET)
1956 Ohio John Carroll University, Cleveland, OH (CLV)
1957-1959 Xavier University College of Liberal Arts, Cincinnati, OH (CIN)
1960-1961 Chicago Province of the Society of Jesus, Oak Park, IL (CHI)
1962-1964 St. Xavier High School, Cincinnati, OH (CIN)
1965-1967 Bellarmine Jesuit Retreat House, Barrington, IL (CHI)
1967-1973 Loyola University Chicago, Chicago, IL (CHI)
1974-1993 Unknown
1993 Died
Fr. Mark A. Finan, S.J. was ordained a Jesuit priest and worked in various parishes throughout the United States.
According to the Jesuits, Fr. Finan has been twice accused of child sexual abuse, one incident allegedly occurring in 1944
while he was working at St. Ignatius College Prep in Chicago, Illinois, and the other incident allegedly occurring from 1964
to 1965 while he was working at St. Xavier High School in Cincinnati, Ohio. Fr. Finan is included on the list of "USA Midwest
Province Jesuits with an Established Allegation of Sexual Abuse of a Minor." Fr. Finan's status as a priest, his whereabouts, and
whether he had access to children from 1974 to his death are unknown.