Fr. Laurence (Lawrence) Florez (Flores)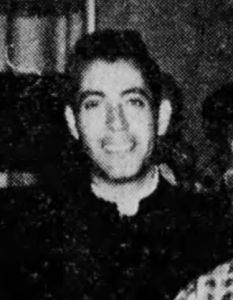 Ordained: 1959
Assignments:
1960-1961 Nativity of the Blessed Virgin Mary, AZ (TUC)
1961-1962 Santo Nino and Missions, Aragon, NM (LSC)
1963-1964 Our Lady of Guadalupe, Holbrook, AZ (TUC)
1965 St. Mary, Kingman, AZ (TUC)
1966-1969 St. John Vianney, Sedona, AZ (TUC)
1970-1980 St. Margaret, Tempe, AZ (GLP)
1981-1987 St. Therese, El Mirage, (PHX)
1988-1989 Unknown
1990-1991 Santa Teresita, El Mirage, AZ (PHX)
1992-2002 Retired
2002 Died
Fr. Laurence Florez was ordained in the Diocese of Gallup. In 1993, Fr. Florez was named in a lawsuit involving child sexual abuse that allegedly occurred in the mid-1970s in Tempe, Arizona. A year later, a second survivor came forward alleging child sexual abuse by Fr. Florez at St. Margaret's in Tempe, Arizona. Fr. Florez was listed on the Diocese of Gallup's "List of priests, religious and other persons who have been credibly accused of sexual abuse of minors and who have served in parishes or institutions of the church located within the territorial limits of the Diocese of Gallup." He was also listed on the Diocese of Phoenix's list of "Diocese of Phoenix priests and deacons who have been laicized and/or removed from ministry due to sexual misconduct with a minor." Fr. Florez's status as a priest, current whereabouts, and whether he has access to children are unknown.