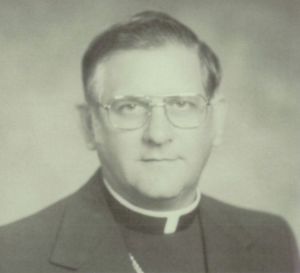 Fr. Joseph A. Ferrario
Ordained: 1951
Assignments:
1952-1955: St. Joseph's College, Mountain View, CA (SFR)
1956: St. Mary's Seminary and University, Theological Dept., Baltimore, MD
1957: St. Joseph's College, Mountain View, CA (SFR)
1958-1966: St. Stephen's Minor Seminary, Kaneohe, Ohau, HI
1967: Our Lady of the Mount, Kalihi, HI
1968-1970: Cathedral of Our Lady of Peace, Honolulu, HI
1971-1973: St. Stephen's Seminary, Kaneohe, HI
1974-1975: Holy Trinity, Honolulu, HI
1976-1977: St. Anthony, Kailua, HI
1978-2003: Bishop of the Diocese of Honolulu, HI
1982-1984: St. Stephen's Seminary, Kaneohe, HI
1985-1989: The Augustine Educational Foundation, Honolulu, HI
1993-2003: Retired; remained Bishop Emeritus of Honolulu until 2003
2003: Died
Bp. Joseph Ferrario's sexual escapades with both children and young men were widely known throughout his career and either ignored or allowed to flourish by his superiors. Bp. Ferrario began his career in the Archdiocese of San Francisco. By the 1960s, Bp. Ferrario had already abused multiple seminarians at St. Stephen's in Kaneohe. During Bp. Ferrario's subsequent assignments, he abused multiple boys and reports of abuse were made to the Diocese of Honolulu, but these reports were ignored by diocesan officials. In 1982, Bp. Ferrario was elevated to Bishop of Honolulu, despite multiple reports of inappropriate behavior with children and young men. It is believed that in 1986, the Papal Nuncio ordered an investigation of Bp. Ferrario's fitness. The results of the investigation have not been made public. In 1991, attorney Jeff Anderson filed a civil lawsuit on behalf of a survivor abused by Bp. Ferrario, but the lawsuit was dismissed due to the statute of limitations. He has been named in several other civil lawsuits related to child sexual abuse.