fr. Michael Francis Krol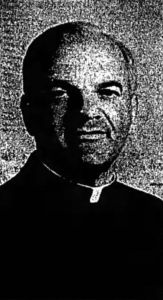 Ordained: 1945
Assignments:
1946-1949: Unknown
1950-1951: St. Francis Xavier, Enid, OK (OKL)
1952-1953: Sacred Heart, Sayre, OK (OKL)
1954-1960: Unknown
1961: St. Finbar's, Brooklyn, NY (BRK)
1962: St. Francis de Sales, Lamar, CO (PBL)
1963-1964: Our Lady of Perpetual Help, New London, CT (NOR)
1965-1969: Unknown
1970-1971: St. Thomas, Hamilton, TX (AUS)
1972-1973: St. Mary's, San Saba, TX (AUS)
1974-1976: St. Mary's, Bremond, TX (AUS)
1977-1990: Guardian Angels', Wallis, TX (GAL)
1991: Unknown
1992-1994: Retired; St. Anthony's, Runge, TX (SAT)
1992-1996: Retired; Kopernik Shores, Brownsville, TX (BWN)
1996: Died
Fr. Michael Krol was ordained a priest in the Diocese of Austin and worked in various dioceses throughout the United States, including the Diocese of Brooklyn. In 2019, Fr. Krol was named on the Diocese of Austin's "List of clergy and religious who have been credibly accused of committing sexual abuse against a minor" and on the Diocese of Norwich's "List of Clergy with Allegations of Substance of Sexual Abuse of a Minor Who Served in the Diocese of Norwich" in the subsection "Priests who Served in the Diocese of Norwich who had Allegations in Other Places but not in the Diocese of
Norwich." The details of the sexual abuse allegations, including when and where the abuse occurred, are unknown. It is believed that Fr. Krol died in 1996.