Fr. Gary J. Mercure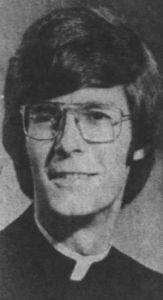 Assignments:
1975-1978 Our Lady of the Assumption, Latham, NY (ALB)
1979-1982 St. Teresa of Avila, Albany, NY (ALB)
1983-1991 Our Lady if the Annunciation, Queensbury, NY (ALB)
1992-1995 St. Alphonsus Regional Catholic School, Glens Falls, NY (ALB) ; St. Mary, Glens Falls, NY (ALB)
1996 Unknown
1997 St. Mary, Clinton Heights, NY (ALB)
1998-2008 Sacred Heart, Troy, NY (ALB)
2000-2008 St. Williams, Troy, NY (ALB)
2009-2019 Unknown
Fr. Gary J. Mercure has been accused of sexually abusing at least seven boys in the 1980s and 1990s. In 2008,
a lawsuit filed by four survivors alleged child sexual abuse by Fr. Mercure from 1978 to 1991, with the abuse beginning
when they were between the ages of 6 and 13 years old. Another lawsuit filed in 2008 accused Fr. Mercure of the abuse
of a vulnerable adult and alleged that the Diocese of Albany had known about Fr. Mercure's interest in children since
1994. In 2008, the Diocese found "reasonable grounds" to believe Fr. Mercure sexually abused a child in the mid-1980s
and subsequently removed him from ministry. Fr. Mercure was criminally prosecuted and convicted in 2011 for rape
of a child and indecent assault. Fr. Mercure received a 20-25 year sentence. Fr. Mercure was named on the Diocese of
Albany's list of "Clergy Credibly Accused While Serving in the Diocese of Albany." It is believed that Fr. Mercure has
remained a priest while incarcerated.