Fr. Harold P. Graf.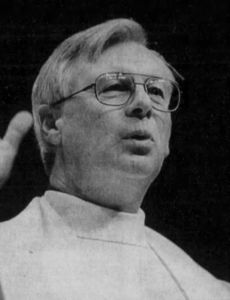 Ordained, 1968
Assignments:
1969 St. Bernard's, Levittown, NY (RVC)
1969-1971 St. Gregory, Phoenix, AZ (PHX)
1971-1972 St. Mary, Chandler, AZ (PHX)
1972-1976 Our Lady of Mount Carmel, Tempe, AZ (PHX)
1977-1981 St. Paul, Phoenix, AZ (PHX)
1981 St. Henry, Buckeye, AZ (PHX)
1982-1988 Newman Center, Northern Arizona University, Flagstaff, AZ (PHX)
1989-1991 Blessed Sacrament, Scottsdale, AZ (PHX)
1992 Unassigned
1992-1994 Vocations Director, Diocese of Phoenix, AZ (PHX)
1994-2000 Our Lady Lourdes, Sun City West, AZ (PHX)
2001-2002 St. Joan of Arc, Phoenix, AZ (PHX)
2003 – 2019 Unknown
Fr. Harold P. Graf was ordained in the Diocese of Rockville Centre, New York. In June 2002, Fr. Graf was suspended due to allegations of sexual misconduct with a child that occurred in approximately 1978. Fr. Graf was permanently barred from ministry later that year. Fr. Graf was included on the Diocese of Phoenix's List of "Diocese of Phoenix priests and deacons who have been laicized and/or removed from ministry due to sexual misconduct with a minor." Fr. Graf is believed to be living in Phoenix, Arizona. Whether he has access to children is unknown.