Msgr. John M. Harrington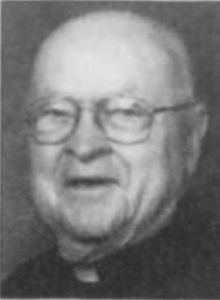 Ordained: 1945
Assignments:
1946: Boston College, Boston, MA (NY)
1947: The New York Foundling Hospital, New York, NY (NY)
1948-1961: Immaculate Conception, Yonkers, NY (NY)
1962-1964: St. Peter's, Yonkers, NY (NY)
1965-1970: Cardinal McCloskey Home, White Plains, NY (NY)
1971-1979: Our Lady of Victory, Mt. Vernon, NY (NY)
1980-1982: Immaculate Conception, Tomkins Cove, NY (NY)
1983-1995: Immaculate Conception, Stony Point, NY (NY)
1996: Unknown
1997-2001: Retired (NY)
2002-2008: Unknown
2009: Died
Msgr. John Harrington was ordained a priest in the Archdiocese of New York. Msgr. Harrington worked as the Director of Family Services for New York Catholic Charities before being named the Vicar of Rockland County in 1996. Msgr. Harrington was publicly accused of sexual abuse of minors for the first time in 2017 when allegations were received in the Archdiocese of New York's Independent Reconciliation and Compensation Program. Msgr. Harrington was named on the Archdiocese of New York's 2019 "List of Archdiocesan Clergy Credibly Accused of Sexual Abuse of a Minor or the Subject of Eligible IRCP Compensation Claims" under the subsection "[t]he following archdiocesan clergy do not meet the criteria set forth above, but the IRCP's independent administrators have determined that claims against them were eligible for compensation." The details of the sexual abuse allegations, including when and where the alleged abuse occurred, are unknown. Msgr. Harrington's status as a priest, whereabouts, and whether he had access to children from 1996 until his death in 2009 are unknown.