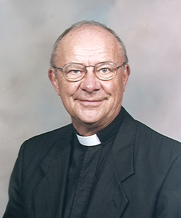 Fr. Gerald A. Hartz
Ordained: 1959
Assignments:
1960-1962 Immaculate Conception, Cherokee, IA (SC)
1963 Unknown
1964-1966 Bishop Heelan Catholic High School, Sioux City, Iowa (SC)
1967-1971 St. Joseph's, Granville, IA (SC)
1972-1984 St. Edmund High School, Fort Dodge IA (SC)
1985 St. Joseph's, Barnum, IA (SC)
1986-1987 St. Rose of Lima, Denison, IA (SC)
1988-1994 St. Cecelia's, Algona, IA (SC)
1995-1996 St. Lawrence, Carroll, IA (SC)
1997-2000 Monastery of the Discalced Carmelite Nuns, Sioux City IA (SC)
1999-2003 Special Assignment; Holy Spirit Retirement Home, Sioux City IA (SC)
2004-2017 Retired; Christ the King, Bakersfield CA (FRS)
2018-2019 Unknown
In 1996, a survivor came forward to accuse Fr. Gerry Hartz of alleged child sexual abuse in approximately 1995 in the Diocese of Sioux City, Iowa. Father Hartz was not charged for this offense, and stayed active in ministry. Fr. Hartz recently provided ministerial support services for a time at Our Lady of Perpetual Help Church in Bakersfield, California and is believed to have been assisting at Christ the King Church in Fresno, California. Fr. Hartz's status as a priest, current whereabouts, and whether he has access to children are unknown.