Fr. Joseph W. Hickey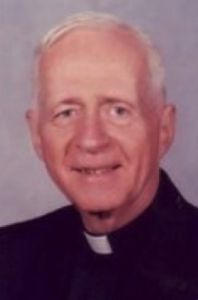 Ordained: 1956
Assignments:
1957: St. Columba's, Chester, NY (NY)
1958-1959: St. Agnes, Manhattan, NY (NY)
1960-1973: St. Joseph's, New Paltz, NY (NY)
1968-1973: State University College at New Paltz, New Paltz, NY (NY)
1973-1977: Sacred Heart, Hartsdale, NY (NY)
1978-1992: St. Mary's, Wappingers Falls, NY (NY)
1993-1998: St. Francis Xavier, New York, NY (NY)
1999-2002: Transfiguration Church, Tarrytown, NY (NY)
2002: Retired
2003-2004: Unknown
2005 Retired: 330 S. Broadway, Apt C5, Tarrytown, NY (NY)
2006 Retired: 2970 S. Broadway, Tarrytown, NY (NY)
2007-2013: Department of Veterans Affairs Hospitals and Chaplains (NY)
2009-2012: Hudson Valley Healthcare, Castle Point, NY (NY)
2014: Died
Fr. Joseph Hickey was ordained a priest in the Archdiocese of New York. Fr. Hickey was named on the Archdiocese of New York's 2019 "List of Archdiocesan Clergy Credibly Accused of Sexual Abuse of a Minor or the Subject of Eligible IRCP Compensation Claims," in the subsection "[t]he following archdiocesan clergy do not meet the criteria set forth above, but the IRCP's independent administrators have determined that claims against them were eligible for compensation." The details of the sexual abuse allegations, including when and where the alleged abuse occurred, are unknown. Fr. Hickey reportedly worked at St. Aloysius in Livingston Manor after ordination. During his retirement, Fr. Hickey purportedly worked at the VA Medical Center in Montrose from 1998 to 2011 and at Marymount College in Tarrytown from 2004 to 2012. Whether Fr. Hickey had access to children from 2002 until his death in 2014 is unknown.