Fr. James J. McDevitt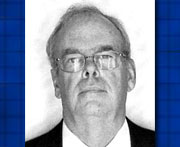 Ordained: 1997
Assignments:
1998-1999 St. Pius X, Loudonville, NY (ALB)
2000-2001 Special Assignment; Troy, NY (ALB)
2001 St. Mary, Ballston Spa, NY (ALB)
2002-2003 St. Peter, Delhi, NY (ALB)
2004-2007 Presbyteral Council, Albany, NY; Diocesan Board of Consultors, Albany, NY; Deans, Delaware, Albany, NY (ALB)
2005-2009 Sacred Heart, Margaretville, NY (ALB)
2010-2019 Unknown
Fr. James J. McDevitt was arrested on July 16, 2009 on multiple charges involving child sexual abuse and child endangerment. The arrest came after a month long investigation into claims that Fr. McDevitt sexually abused six young boys, the youngest being 11 years old. Four of the survivors filed a civil lawsuit in 2010 in connection to the sexual abuse they suffered at the hands of Fr. McDevitt. Fr. McDevitt was included on the Diocese of Albany's lists of
"Clergy Credibly Accused While Serving in the Diocese of Albany." Fr. McDevitt's whereabouts and whether he has had access to children are unknown.