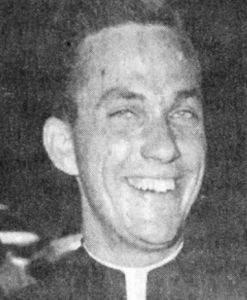 Msgr. James T. Booth
Ordained: 1946
Assignments:
1947 St. Joseph's Cathedral, San Diego, CA
1948 Church of the Most Blessed Sacrament, Descanso, CA
1949 Our Lady of Angels, San Diego, CA
1949 Diocesan Director of Young Men's Institute, San Diego, CA
1949 Diocesan Father Serra Club
1949-1952 North American College, Rome, Italy (Student)
1953 Patton State Hospital, Patton, CA
1954 College of Liberal Arts, San Diego, CA
1954-1960 Graduate School of Law, San Diego, CA
1954-1967 Chancellor
1954-1969 Nazareth House Orphanage, San Diego, CA
1954-1970 Mission San Diego De Alcala, San Diego, CA
1955-1967 Diocesan Consultors, San Diego, CA
1965-1968 Administrative Council, San Diego, CA
1965-1969 Indian Missions Commission
1970 Building Committee
1971-2011 Unknown
2012 Died
Multiple survivors have come forward alleging child sexual abuse by Fr. James T. Booth, from approximately 1965 to 1970, while he worked at Mission San Diego de Alcala. In 1971, Fr. Booth left the priesthood, allegedly in order to marry a 19-year-old San Diego State University student. Fr. Booth then became an Episcopal priest and worked throughout Central Valley, California until he retired in the 1990s. He has been named in at least two civil lawsuits. Fr. Booth was included in the Diocese of San Diego's list of priests where the Diocese has received a credible allegation involving sexual abuse of a minor. His exact whereabouts and whether he had access to children from 1971 until his death in 2012 are unknown.