Fr. Jan C. Olowin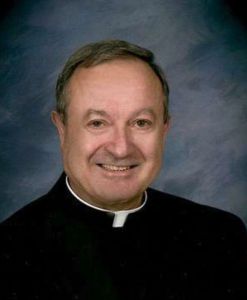 Ordained: 1968
Assignments:
1969: Cathedral Preparatory School for Boys, Erie, PA (E)
1970-1985: St. Patrick, Erie, PA (E)
1975-1984: Soldiers and Sailors, Erie, PA (E)
1982-1983: Immaculate Conception, Erie, PA (E)
1985-1986: St. Adalbert, Farrell, PA (E)
1987-1992: St. Joseph, Oil City, PA (E)
1993-1998: St. George, Erie, PA (E)
1999: Unknown
2000-2008: St. Bernard, Bradford, PA (E)
2002-2008: Federal Correctional Institution, Bradford, PA (E)
2009-2012: St. Michael, Emlenton, PA (E); Clarion University, Emlenton, PA (E)
2013-2018: Retired
2019: Unknown
The 2005 Pennsylvania Grand Jury Report stated that in 1993, the Diocese of Erie received a report that alleged that Fr. Jan C. Olowin sexually abused the caller and two of his friends when they were children. Despite its instantiation in 1993, there was seemingly no investigatory or disciplinary action taken until 2016, when he was restricted from ministry. In 2019, Fr. Olowin was included on the Diocese of Erie's "Public Disclosures List" that includes "Every person named on this list was credibly accused of actions that, in the diocese's judgment, disqualify that person from working with children," in the section "These individuals are currently under investigation, and each is presumed innocent unless proved otherwise." According to this list, Fr. Olowin is retired in Peoria, Arizona which is within the Diocese of Phoenix. Fr. Olowin's status as a priest, current whereabouts, and whether he has access to children are unknown.