Fr. Jeremiah Nunan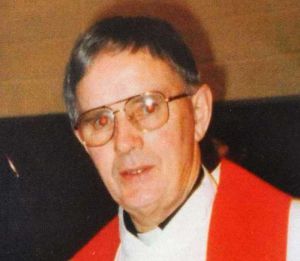 Assignments:
1964-1967 St. Henry's, Averill Park, NY (ALB)
1965-1973 St. Joseph's, Nome, AK (FBK)
1967-1982 Immaculate Conception, Fairbanks, AK (FBK)
1968 St. Mary's, Little Falls, NY (ALB) 1981-2012 Sacred Heart, Cairo, NY (ALB)
1969-1971 Our Lady of the Church of Assumption, Latham, NY (ALB)
1972-1980 St. Mary's, Hudson, NY (ALB)
1972-1984 Columbia Memorial Hospital School of , Hudson, NY (ALB)
1982 Died
Notes:
Fr. Jeremiah Nunan was ordained in Ireland before transferring to the Diocese of Albany. In 2006, a priest accused Fr. Nunan of sexually abusing him multiple times over the course of three years, beginning when he was nine years old and a parishioner at St. Mary's Church in Hudson, NY. The Diocese cleared Fr. Nunan in 2007 and allowed him to return to Sacred Heart in Cairo. Approximately six years later, in 2012, a man filed a lawsuit alleging Fr. Nunan sexually abused him over a fifteen year period, between 1996 and 2002, when the alleged victim was a minor, and between 2007 and 2011, when he was an adult. It was later revealed that Fr. Nunan was also accused of sexually abusing the man's brother. Fr. Nunan is listed on the Diocese of Albany's list of "Clergy Credibly Accused While Serving in the Diocese of Albany." Fr. Nunan's status as a priest, current whereabouts, and whether he has access to children are unknown.