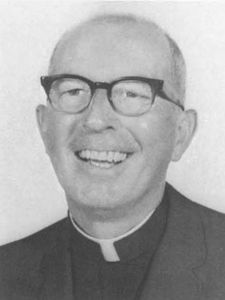 Fr. John Beatty
Ordination: 1950
Assignments:
1951-1954 Cathedral Boys' High School, Springfield, IL
1955 Spalding Institute, Peoria, IL
1956-1961 St. Patrick's, Kankakee, IL
1962 St. Martin's, Martinton, IL
1963-1965 Alleman High School, Rock Island, IL
1966 St. Clement's, Ft. Lauderdale, FL
1967-1968 Our Lady of Angels, San Diego, CA
1967-1969 Marian High School, Imperial Beach, CA
1969-1970 St. Pius X, Chula Vista, CA
1971-1972 Our Lady of Guadalupe, San Bernardino, CA
1973 University Hospital, San Diego, CA (Chaplain)
1974-1976 St. John of the Cross, Lemon Grove, CA
1977-1980 St. Columba, San Diego, CA
1981-1985 Our Lady of Mt. Carmel, San Ysidro, CA
1986-1987 Unknown
1988-1997 Retired
1997 Died
Fr. John Beatty was ordained a priest of the Clerics of St. Vistor. He worked for more than three decades in various dioceses in Illinois, Florida, and California. Fr. Beatty was included in the Diocese of San Diego's list of priests where the Diocese has received a credible allegation involving sexual abuse of a minor.