Fr. Finbar Kenneally, O.F.M.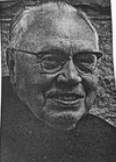 Ordained, 1925
Assignments:
1926-1934 Unknown
1935-1950 Old Mission San Luis Rey, San Luis Rey, CA (LA)
1939-1940 Old Mission Santa Barbara, Santa Barbara, CA (LA)
1950-1953 St. Joseph Hospital, Phoenix, AZ (TUC)
1954-1977 Academy of American Franciscan History, Washington, DC (WDC)
1977-1991 St. Anthony's Seminary, Santa Barbara, CA (LA)
1979-1987 St. Anthony's Seminary High School, Santa Barbara, CA (LA)
1991 Died
Fr. Finbar Kenneally was a member of the Franciscan Friars of the Province of Saint Barbara, part of what is formally known as the Order of Friars Minor. He was included in the Franciscan Friars Province of Saint Barbara's "List of Franciscan Friars from the St. Barbara Province with Credibly (sic) Claims of Sexual Abuse of a Minor" in the section "Deceased Former Province of St. Barbara Friars Who Have Been Credibly Accused." According to this list, a report wasmade in 1991 alleging that Fr. Kenneally sexually abused a minor from approximately 1962 to 1964. The same list reports that Fr. Kenneally also worked in Toronto, Canada from approximately 1941 to 1942 and from 1953 to 1954.