Fr. Peter Kranch, M.I.C.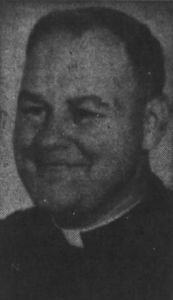 Ordained: 1951
Assignments:
1952-1957 Marian Hills Seminary, Claredon Hills, IL (JOL)
1972-1998 Holy Cross, West Taghkauie, NY (ALB)
1958-1963 St. Michael, South Glen Falls, NY (ALB)
1964-1965 St. Francis, Herkimer, NY (ALB)
1965-1966 St. Patrick's, Albany, NY (ALB)
1968-1969 Cathedral of Immaculate Conception, Albany, NY (ALB)
1970-1971 St. Williams, Unadilla, NY (ALB)
1999 Unknown
2000 Unassigned (ALB)
2001 Retired (ALB)
2001 Died
Notes:
Fr. Peter Kranch worked at various parishes in the Diocese of Albany. Fr. Kranch has been named on the Diocese of Albany's lists of "Clergy Credibly Accused While Serving in the Diocese of Albany." The details of the sexual abuse allegations, including when and where the alleged abuse occurred, are unknown. It is believed Fr. Kranch died in 2001.