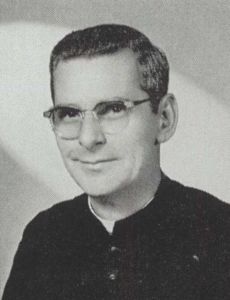 Fr. Lawrence Kurlandski, C.R.
Ordained: 1942
Assignments:
1943 Unknown
1944-1948 Holy Family, San Diego, CA
1949- 1951 St. Joseph's, Fontana, CA
1952-1954 Newman High School, Fontana, CA
1955-1962 St. Gordon Technical High School, Chicago, IL
1963-1969 St. Joseph's, Fontana, CA
1970-1978 St. Mary, Fontana, CA
1979-1980 Unknown
1981-1989 Weber High School, Chicago, IL
1990 Died
Fr. Lawrence Kurlandski is a Resurrectionist priest. At least one survivor has come forward alleging child sexual abuse by Fr. Kurlandski from 1947 to 1949, while he worked at St. Joseph's in Fontana, California. Fr. Kurlandski has been named in at least one civil lawsuit. Fr. Kurlandski is believed to have died in 1990.