Fr. John J. Lynch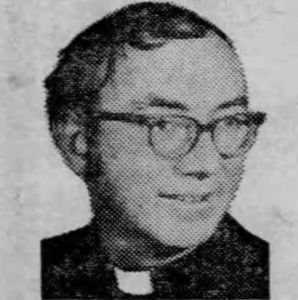 Ordained: 1965
Assignments:
1966-1971: St. Gabriel's, New Rochelle, NY (NY)
1972-1981: St. Mary Star of the Sea, Bronx, NY (NY)
1982-1988: St. Mary of the Assumption Church, Katonah, NY (NY)
1989: St. Sylvia, Tivoli, NY (NY)
1990: Unknown
1991-1996: St. Joachim, Beacon, NY (NY)
1997-2018: Immaculate Conception, Woodbourne, NY (NY)
2004-2006: St. Joachim Church, Beacon, NY (NY)
2004-2008: St. John the Evangelist, Beacon, NY (NY)
2019: Unknown
Fr. John Lynch was ordained a priest in the Archdiocese of New York. Fr. Lynch was named on the Archdiocese of New York's 2019 "List of Archdiocesan Clergy Credibly Accused of Sexual Abuse of a Minor or the Subject of Eligible IRCP Compensation Claims," in the section "[t]he following archdiocesan clergy have been credibly accused of sexual abuse of a minor." The details of the sexual abuse allegations, including when and where the alleged abuse occurred, are unknown. The Archdiocese of New York has reportedly removed Fr. Lynch from ministry. Fr. Lynch's status as a priest, whereabouts, and whether he has access to children are unknown.