Fr. Mark Haight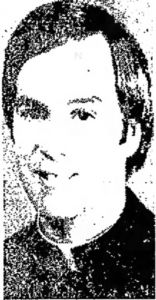 Ordained: 1976
Assignments:
1977 St. Francis de Sales, West Albany, NY (ALB)
1978 St. Patrick, Troy, NY (ALB)
1979 Our Lady of Grace, Ballston Lake, NY (ALB)
1980-1986 Absent On Leave
1987-1988 St. Jude the Apostle, Wynantskill, NY (ALB)
1989 Awaiting Assignment
1990 St. Joseph, Scotia, NY (ALB)
1991-1997 Glens Falls Hospital, Glens Falls, NY (ALB)
1992-1997 St. Mary, Glens Falls, NY (ALB)
1998-2019 Unknown
Fr. Mark Haight has been accused of child sexual abuse by at least five people. In 2002, the Diocese of Albany acknowledged that Fr. Haight had a history of sexually abusing boys, and that the Diocese had already entered into confidential settlements with two survivors. The Diocese sent Fr. Haight to treatment and later reassigned him to minister at a hospital. The Archdiocese of Baltimore included Fr. Haight on its "List of Priests and Brothers Accused of Child Sexual Abuse." In 2002, another survivor came forward and alleged he was sexually abused as a minor by Fr. Haight in
approximately 1974 while on a camping trip and in Fr. Haight's room at the seminary. A fourth survivor filed a civil lawsuit in 2004 alleging that Fr. Haight sexually abused him when he was 14 years old. Another civil lawsuit alleging that Fr. Haight sexually abused a minor was filed in Vermont in 2018. Fr. Haight was included on the Diocese of Albany's "Clergy Credibly Accused While Serving in the Diocese of Albany." It is believed that Fr. Haight was stripped of his ministerial duties in 1997. Fr. Haight's current whereabouts, his status as a priest, and whether he has access to children are unknown.