Fr. Peter McCormick, S.P.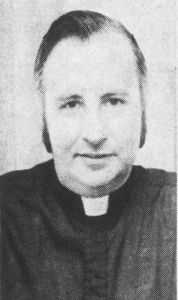 Ordained: 1970
Assignments:
1971-1973 Via Coeli Monastery, Jemez Springs, NM (SFE)
1974-1975 Holy Spirit Retreat, Canton, OH (Y)
1976-1978 St. Mary, Glens Falls, NY (ALB)
1979-1980 St. Joseph's Little Falls, NY (ALB) 2001-2019 Unknown
1981 Unassigned
1982 St. Ambrose, Latham, NY (ALB)
1983-1984 Unknown
1985-2000 Sacred Heart, Palm Desert, CA (SB)
2001-2019 Unknown
Notes: Fr. Peter McCormick, S.P., was a member of the Servants of the Paraclete. In 2000, a survivor alleged Fr. McCormick sexually abused him from the age of 13 until adulthood. Fr. McCormick has since admitted to child sexual abuse while he worked at Sacred Heart in California. In 2018, Fr. McCormick was included on the Diocese of San Bernardino's list of "Clergy Credibly Accused of Child Sexual Abuse" and was permanently banned from the Diocese. Fr. McCormick's status as a priest, current whereabouts, and whether he has access to children are unknown.