Fr. Frances (Francis) P. Melfe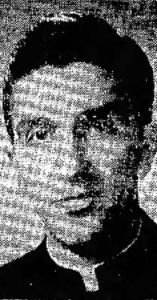 Ordained: 1954
Assignments:
1955-1958 Our Lady of Mt. Carmel, Gloversville, NY (ALB)
1959-1967 St. Joseph's, Troy, NY (ALB)
1968 St. Mary's, Hudson, NY (ALB)
1969-1970 St. Patrick's, Albany, NY (ALB)
1971-1979 Immaculate Conception, Schenectady, NY (ALB)
1980-1981 Absent on Leave
1982-2019 Unknown
Fr. Frances P. Melfe worked in various parishes throughout the Diocese of Albany until his resignation in 1979. He was publicly named by the Diocese of Albany on its lists of "Clergy Credibly Accused While Serving in the Diocese of Albany." The details of the sexual abuse allegations, including when and where the alleged abuse occurred, are unknown. Fr. Melfe's current whereabouts and whether he has access to children are unknown.