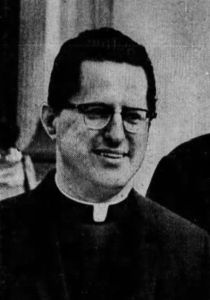 Fr. Robert (Bob) Daniel (Drew) Nikliborc (Rand)
Ordination: 1955
Assignments:
1956 Sick Leave
1957 St. Boniface School, Banning, CA
1958-1969 Boys Town of the Desert, Inc., Banning, CA
1970 Unknown
1971 St. John, Encinitas, CA
1972-2001 St. Anne, San Diego, CA
2002-2006 Retired
2003-2005 St. Anne, San Diego, CA
2006 Died
Multiple survivors have come forward alleging child sexual abuse by Fr. Robert Daniel Nikliborc, who headed the organization Boys Town of the Desert for years. At various times, the organization was known as "Basil Brewer's Boys' Town of the Desert" or "St. Boniface Boys' Town of the Desert." In 1956, Fr. Nikliborc was sent to Via Coeli Monastery in Jemez Springs, an institution known for treating priests accused of sexual abuse. While Fr. Nikliborc was running Boys Town of the Desert Orphanage, he was also was living in Palm Springs, going by the name of "Robert Drew Rand" or "Bob Rand," and running Robert Rand Enterprises. In 1968, he was convicted of tax evasion and spent 97 days is in jail before he was placed on yearlong probation. He was subsequently sent to St. Anne's in San Diego, where he stayed until his retirement. He has been named in at least one civil lawsuit. Fr. Nikliborc was included in the Diocese of San Diego's list of priests where the Diocese has received a credible allegation involving sexual abuse of a minor. His whereabouts from 2001 until his death in 2006 are unknown.