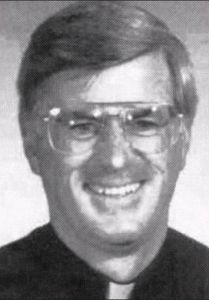 Msgr. Patrick J. O'Keeffe
Ordained: 1959
Assignments:
1960-1965 St. John The Evangelist, San Diego, CA
1966-1974 St. Charles Borromeo, San Diego, CA
1975-1976 St. Adelaide, Highland, CA
1977 St. Joseph Church, Loma Linda, CA
1978 SS. Peter and Paul Church, Alta Loma, CA
1977-1983 St. Peter & St. Paul, Alta Loma, CA
1984-1986 Unknown
1987-1990 Junipero Serra House of Formation, Riverside, CA
1990-1992 St. Margaret Mary Church, Chino, CA
1993 Unknown
1994 Holy Family Church, Hesperia, CA
1995 Retired
1995-2018 Unknown
2006 Laicized
Msgr. Patrick J. O'Keeffe served Southern California for nearly three decades before being appointed Monsignor in 1988. He served as  Monsignor for several years before having his faculties removed in 1994 according to records due to reports of sexual misconduct. The first three reports against him came in 1994 from three adult women
who alleged Msgr. O'Keeffe was guilty of sexual indiscretions. Subsequently, several additional sexual abuse allegations came out against Msgr. O'Keeffe that went as far
back as 1958. In 2002, he was criminally charged with 15 counts of oral copulation with a female minor. The case was eventually dismissed due to the statute of limitations. As part of a bankruptcy pledge in 2007, the Diocese of San Diego released a list of 38 priests who have been credibly accused of sexual abuse, included on the list was Msgr. O'Keeffe. Documents release by the Diocese of San Diego indicate that Msgr. O'Keeffe worked for several years beginning in 1994 and continuing through at least 2002 except for a one-year absence as the Director of Religious Studies for the St. Anne School in Laguna Niguel, California.