Msgr. John A. Oliver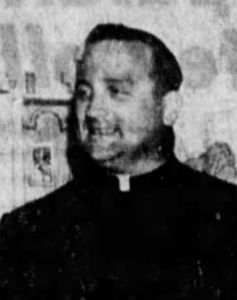 Ordained: 1952
Assignments:
1953-1954: Queen of Peace, Mesa, AZ (TUC)
1955-1956: St. Augustine's, Tucson, AZ (TUC)
1957-1958: On Duty Outside the Diocese (TUC)
1959-1960: All Saints', Tucson, AZ (TUC)
1961-1964: St. Augustine's, Tucson, AZ (TUC)
1965-1966: Catholic Charities of Arizona, Tucson, AZ (TUC); St. Vincent de Paul Society, Tucson, AZ (TUC)
1967-1968: St. Odilia, Tucson, AZ (TUC)
1969-1980: Immaculate Conception, Yuma, AZ (TUC)
1981-1995: Sacred Heart, Nogales, AZ (TUC)
1996-2000: St. Jude Thaddius, Sunsites, AZ (TUC)
2001-2011: Retired
2011: Died
In 1967, Msgr. John A. Oliver was convicted and pleaded guilty to charges relating to child sexual abuse. Msgr. Oliver was subsequently sentenced to six to seven years' probation in connection with the charges. Following his conviction, Msgr. Oliver was assigned to four parishes, most notably in a role as a dean and priest at Immaculate Conception in Yuma, Arizona. Msgr. Oliver is listed on the Diocese of Tucson's "List of clergy and other Church personnel identified by the Diocese of Tucson with assignments, employment or ministry service within the Diocese about whom the Diocese is aware of credible allegations of sexual misconduct involving a minor." Msgr. Oliver's whereabouts, status as a priest, and whether he had access to children from 2001 until his death are unknown.