Fr. Robert P. (Leo) Pelkington, O.P.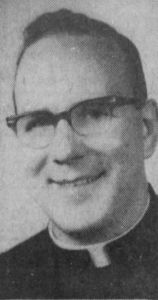 Ordained: 1968
Assignments:
1969: Unknown
1970-1978: Providence College, Providence, RI (PRO)
1979-1980: Jarrett House, Detroit, MI (DET)
1981-1983: St. Stephen Priory, Dover, MA (BO)
1984-1985: St. Vincent Ferrer Priory, New York, NY (NY)
1986: Holy Name of Jesus, Philadelphia, PA (PH)
1987-1991: St. Dominic's, Washington, DC (WDC)
1992: Thomas Aquinas, Zanesville, OH (COL)
1993-1994: St. Vincent Ferrer Priory, New York, NY (NY)
1995: St. Mary's Priory, New Haven, CT (HRT)
1996-1998: Holy Name of Jesus, Valhalla, NY (NY)
1999-2001: Unknown
2002-2011: St. Dominic Church & Priory, Washington DC (WDC)
2012-2014: Unknown
2015: Died
Fr. Robert Pelkington surrendered to police in 2000 after being charged with sexually abusing two minor boys between approximately 1998 and 1999. Fr. Pelkington reportedly abused the boys during visits to Southington, Connecticut, while he was working in the Archdiocese of New York. Prior to his arrest, Fr. Pelkington was sent to St. Luke Institute, an institution known for treating priests accused of child sexual abuse. After accepting a plea deal, Fr. Pelkington was sentenced to a three-year suspended sentence and ten years of probation. In 2009, Fr. Pelkington was listed on the sex offender registry in Washington, D.C. He is included on the Dominicans St. Joseph Province's 2018 list of "Status of Credibly Accused Friars" under the subsection "Friars Permanently Removed from Public Ministry"; the Diocese of Norwich's 2019 "List of Clergy with Allegations of Substance of Sexual Abuse of a Minor" under the subsection "Priests Incardinated in Another Diocese who Served in the Diocese of Norwich"; and the Archdiocese of Hartford's 2019 list of "Religious Order Priests and Priests from Other Dioceses who Have Been Credibly Accused of Sexual Abuse of a Minor That Took Place in the Archdiocese of Hartford From 1953 to the Present." Fr. Pelkington's status as a priest, whereabouts, and whether he had access to children from 2012 until his death in 2015 are unknown.