Fr. George E. Reinheimer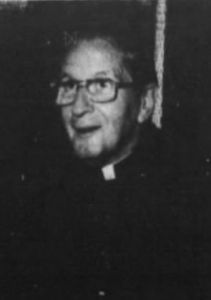 Ordained: 1950
Assignments:
1951-1956: Our Lady of Mt. Carmel, Tuxedo, NY (NY)
1957: St. John the Baptist, Yonkers, NY (NY)
1958-1959: St. Joseph's, New Paltz, NY (NY)
1960-1965: St. Jerome's, New York, NY (NY)
1966-1969: Our Lady of Refuge, New York, NY (NY)
1970-1973: St. Valentine's, Bronx, NY (NY)
1974: Unknown
1975-1979: Lavelle School for the Blind, New York, NY (NY)
1980-1985: St. Ann's, Nyack, NY (NY)
1986: Unknown
1987: Holy Name of Mary, Croton-on-Hudson, NY (NY)
1988: Unknown
1989-1990: St. Dominic, Bronx, NY (NY)
1991-1999: Director of Family Consultation Service, New York, NY (NY)
2000: Unknown
2001: St. Bernard, New York, NY (NY)
2002-2009: Retired; Our Lady of Consolation Residence, Bronx, NY (NY)
2010: Died
Fr. George Reinheimer was ordained a priest in the Archiocese of New York. Fr. Reinheimer is listed on the Archdiocese of New York's 2019 "List of Archdiocesan Clergy Credibly Accused of Sexual Abuse of a Minor or the Subject of Eligible IRCP Compensation Claims," under the subsection "[t]he following archdiocesan clergy do not meet the criteria set forth above, but the IRCP's independent administrators have determined that claims against them were eligible for compensation." The details of the sexual abuse allegations, including when and where the abuse occurred, are unknown.