Fr. Charles Rourke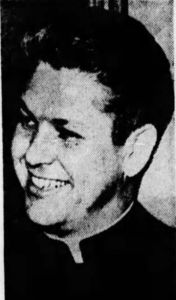 Ordained: 1958
Assignments:
1959: Immaculate Conception, Douglas, AZ (TUC)
1960-1961: Queen of Peace, Mesa, AZ (TUC)
1962: St. Joseph's, Tucson, AZ (TUC)
1963-1965: All Saints, Tucson, AZ (TUC)
1966: St. Augustine's Chapel, Tucson, AZ (TUC)
1967-1968: University of Arizona, Tucson, AZ (TUC)
1969: St. Monica, Tucson, AZ (TUC)
1970-1971: Absent on Leave (TUC)
1972-1973: Unknown
1974-1975: Sacred Heart, Nogales, AZ (TUC)
1976-1978: On Leave of Absence (TUC)
1979-1981: Priests on Leave (TUC)
1982-1983: St. Andrew, Sierra Vista, AZ (TUC)
1984-1990: Absent on Leave (TUC)
1991-1993: Unknown
1993: Died
Fr. Charles Rourke was ordained a priest in the Diocese of Tucson. According to a Special Pastoral Report from the Diocese released in 2003, a review of archival records revealed that there was a failure to report allegations of sexual misconduct with minors against Fr. Rourke and that Fr. Rourke remained in ministry after allegations were reported to the Diocese. Fr. Rourke was named in the Diocese of San Bernardino's list of "Clergy Credibly Accused of Child Sexual Abuse." According to this list, Fr. Rourke worked in the Diocese of San Bernardino as an extern priest with faculties and was accused of sexually abusing a child in approximately 1979. Fr. Rourke was also included on the Diocese of Tucson's "List of clergy and other Church personnel identified by the Diocese of Tucson with assignments, employment or ministry service within the Diocese about whom the Diocese is aware of credible allegations of sexual misconduct involving a minor" and on the Archdiocese of Santa Fe's "List of Priests, Deacons, & Religious Accused of Sexual Abuse of Children." Fr. Rourke has been named in at least one civil lawsuit. Fr. Rourke reportedly died by suicide in 1993 while under investigation for alleged sexual abuse of children in Albuquerque, New Mexico. Fr. Rourke's status as a priest, whereabouts, and whether he had access to children from 1983 until his death are unknown.