Fr. John T. Sullivan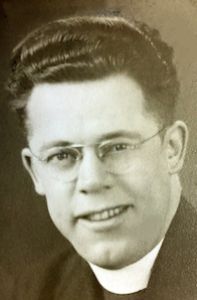 Ordained: 1942
Assignments:
1942-1943: St. John the Baptist, Westville, NH (MAN)
1943-1944: St. Mary's, Dover, NH (MAN)
1944-1945: St. Thomas Aquinas, Derry, NH (MAN)
1945-1946: St. Patrick's, Nashua, NH (MAN)
1946-1949: St. Mary's, Claremont, NH (MAN)
1949-1952: St. Kieran, Berlin, NH (MAN)
1952-1956: Holy Angels, Westville, NH (MAN)
1956-1958: Absent on Leave (MAN)
1958-1959: Holy Spirit, Grand Rapids, MI (GR)
1959-1960: St. Patrick's, Grand Haven, MI (GR)
1960-1963: Absent on Sick Leave (MAN), Winslow, AZ (GAL)
1960-1961: St. Joseph's, Winslow, AZ (GAL)
1960-1962: Madre de Dios, Winslow, AZ (GAL)
1962-1964: St. Francis, Seligman, AZ (TUC)
1964-1965: St. Cecilia's, Clarkdale, AZ (TUC)
1965-1968: St. Mary's, Kingman, AZ (TUC)
1968-1970: St. Francis, Seligman, AZ (PHX)
1970-1974: Our Lady of the Lake, Havasu City, AZ (PHX)
1974-1980: St. Margaret Mary, Bullhead City, AZ (PHX)
1981-1983: Unknown
1984-1999: Retired
1999: Died
Fr. John Thomas Sullivan was ordained in the Diocese of Manchester, New Hampshire, and was later incardinated into the Diocese of Gallup in 1965. In 1949, Fr. Sullivan reportedly impregnated a teenage girl. Fr. Sullivan was suspended in 1952 after making "improper advances toward young women," and was also reported to have stalked a nursing student. After Fr. Sullivan was found to be responsible for another alleged pregnancy in 1956, he was sent to the Servants of the Paraclete's Via Coeli in Jemez Springs, New Mexico, an institution known for treating priests accused of child sexual abuse. In 1981, Fr. Sullivan purportedly retired after pleading no contest to attempted sexual abuse of a minor girl at St. Margaret Mary in Bullhead City, Arizona. In 1983, Fr. Sullivan was stripped of his priestly faculties after more allegations of child sexual abuse surfaced. It is believed that Fr. Sullivan has worked in Wisconsin, Texas, and New Mexico during his career. During retirement Fr. Sullivan reportedly lived in New Hampshire, Arizona, and California. By 2002, six women had come forward alleging that they had been sexually abused as children by Fr. Sullivan in Grand Rapids, Michigan. Fr. Sullivan is on the Diocese of Phoenix's List of "Diocese of Phoenix priests and deacons who have been laicized and/or removed from ministry due to sexual misconduct with a minor." His whereabouts and whether he had access to children from 1980 until his death in 1999 are unknown.