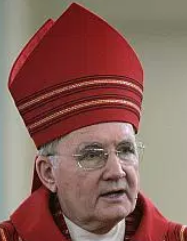 Assignments:
1960-1971 St. Jude's, Marina, CA
1968 St. Francis-Xavier, Seaside, CA (MRY)
1969 On Duty Outside Diocese (MRY);
1972-1973 Monterey Diocesan Headquarter, Monterey, CA (MRY)
1974-1977 St. Jude, Marina, CA (MRY)
1977-1988 St. Francis Xavier, Seaside, CA (MRY)
1989-1997 Diocese of Boise, Boise, ID (B)
1998-2012 Diocese of Orange, Orange, CA (ORG)
2013-2018 Retired
2019 Unknown
Ordained: 1963
Notes: After Bp. Tod D. Brown was ordained, he spent the next two and half decades rising through the ranks of the
Catholic Church. By 1988, he was named Bishop of Boise. After a decade in Boise, Bp. Brown returned to California as
Bishop of Orange. Following his new appointment, news broke alleging that Bp. Brown had sexually abused a minor boy
in 1965. Subsequently, it was uncovered that, despite his charade of increased sex-abuse transparency, he had a storied
history of repudiating victims, covering up sexual abuse, and continually employing perpetrators. Bp. Brown's status as a
priest, current whereabouts, and whether he has access to children are unknown.