April is a very important time for all of us at Jeff Anderson and Associates—it's National Child Abuse Prevention Month, Sexual Assault Awareness Month, and is home to International Denim Day.
It's the month in which people across the nation, and the world, come together in raising awareness for and preventing child abuse in all of its forms, putting an end to sexual assault, helping crime victims exercise their rights, and embracing and celebrating the roles that our communities play in keeping everyone safer from abuse, assault, exploitation, and violent crime.
National Child Abuse Prevention Month
Designated in 1983 under the Regan Administration, National Child Abuse Prevention Month, according to the US Department of Health and Human Services, "recognizes the importance of families and communities working together to strengthen families to prevent child abuse, sexual abuse, and neglect."
Barack Obama issued a declaration in 2016 reaffirming the nation's dedication to the prevention of child abuse, and on March 31 of this year, the Biden Administration issued a proclamation addressing the greater need for awareness and action by Americans, especially in light of the increased incidents of child abuse and sexual abuse during the COVID-19 pandemic.
This month nonprofits, child advocacy centers, youth-serving organizations, and governmental agencies across the country are hosting virtual and in-person education and action events to ensure that we, as a community, can stop the cycle of child abuse and exploitation.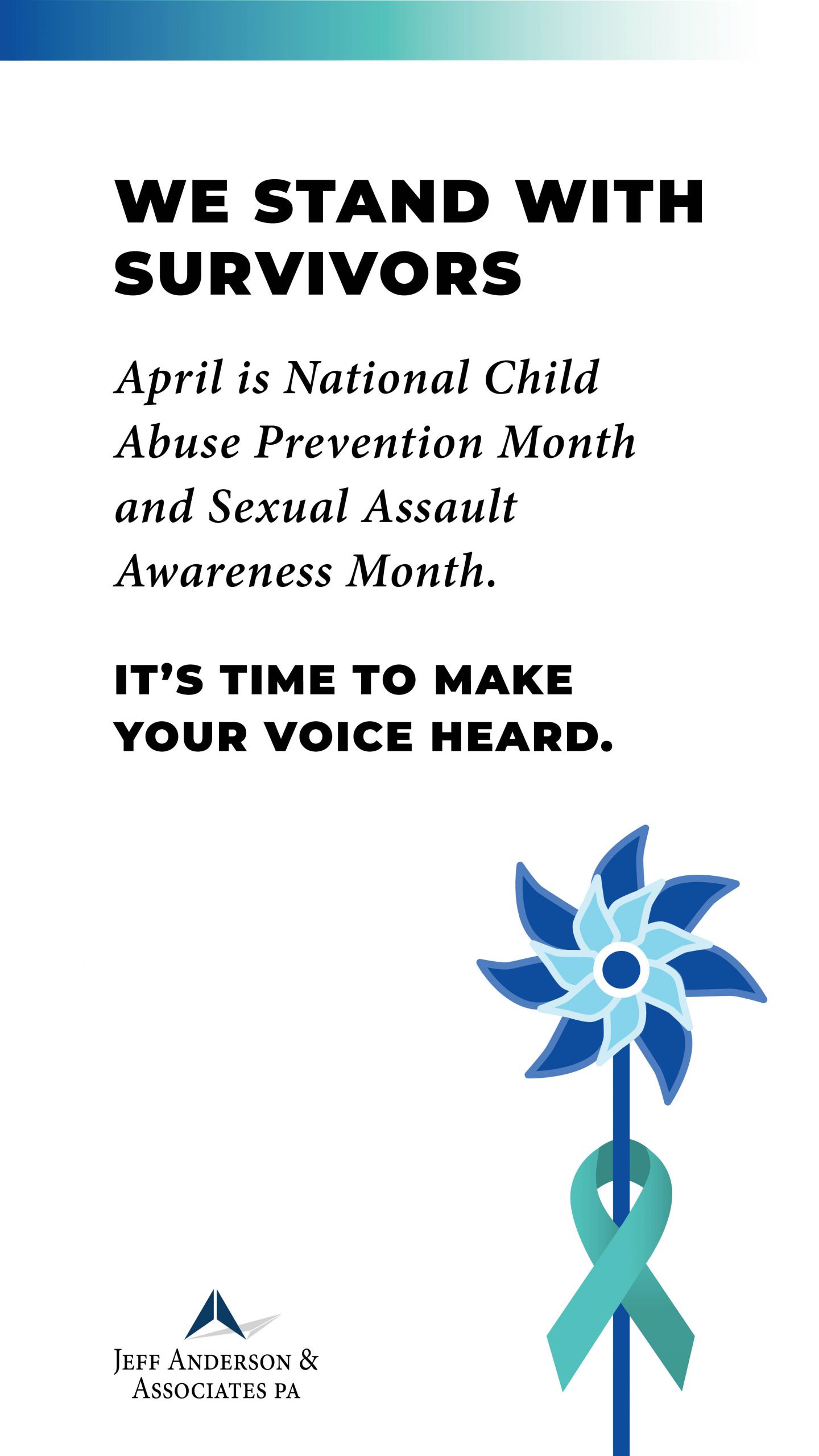 Sexual Assault Awareness Month
Sexual Assault Awareness Month (SAAM) is a worldwide survivor- and supporter-led movement. Its powerful messages and actions reflect an almost 50-year history of marches, rallies, and other actions to raise community awareness about sexual assault.
Since its inception, SAAM has been observed with Take Back the Night rallies, Clothesline Projects (where survivors or their supporters create T-shirts that are hung in public spaces to show that sexual assault, incest, and other forms of sexual violence exist in all areas of our communities), the Day of Action, and Walk A Mile in Her Shoes men's marches.
International Denim Day
At Jeff Anderson and Associates, we annually observe a particular event that allows each of us to act individually and collectively to honor survivors and raise awareness through a small and powerful act: International Demin Day.
The story behind International Denim Day began in Italy in 1992, when an 18-year-old woman was raped by her 45-year-old driving instructor. Although the perpetrator was arrested and jailed, he was later released on appeal—the court determined that because the victim was wearing tight jeans at the time of the rape, she must have helped the man remove them. Therefore, the court determined that the crime not rape, but consensual sex.
Outraged, female members of the Italian Parliament launched a protest by standing together—all wearing denim—on the steps of the Italian Supreme Court. The denim protest movement spread across the globe, with Los Angeles, California, launching the first Denim Day in the U.S. in 1999.
This year, International Denim Day is Wednesday, April 28. We hope you will join us, wear denim, and honor survivors of sexual violence—no matter who they are or when the crime occurred.