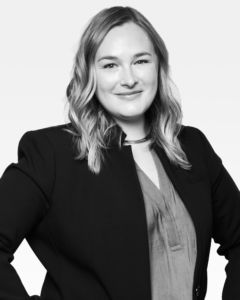 Elin Lindstrom is honored to have spent her career since becoming an attorney in 2011 working with and advocating for survivors of childhood sexual abuse at Jeff Anderson & Associates.  Since joining the firm, Elin has diligently advocated for survivors and worked hard to hold accountable the institutions that allowed the abuse to occur. Elin's empathy and compassion, combined with her legal and institutional knowledge and expertise, make her an essential part of the firm.
During her first six years with Jeff Anderson & Associates, Elin was an integral member of the trial teams that successfully litigated cases involving religious institutions from Minnesota and Wisconsin. In 2015, Elin was a recipient of the Minnesota Lawyer "Attorney of the Year" award for her work on one of the first cases to go to trial under the Minnesota Child Victims Act. Elin again was part of a team that received this award in 2018 for her work representing survivors in the Archdiocese of Saint Paul and Minneapolis Chapter 11 bankruptcy case.  Elin has also been designated as a Super Lawyers "Rising Star" in Minnesota from 2017 to 2021.
In addition to her trial experience, Elin has worked on numerous Chapter 11 bankruptcy cases filed by religious institutions, most recently involving Dioceses in New York and Minnesota.  Elin has also successfully advocated for the public exposure of thousands of secret documents and other non-monetary changes in religious organizations that have helped advance the child protection movement across the country.
Elin spent most of her childhood in Minnesota before finishing high school at Zurich International School in Switzerland. She obtained her bachelor's degree at Northwestern University in Evanston, Illinois, and is a 2011 graduate of the University of Utah S.J. Quinney College of Law in Salt Lake City. Elin is grateful to the survivors with whom she gets to work for having the courage to come forward and make a difference for future generations, including for her three young children.
Elin Lindstrom Bar Admissions: