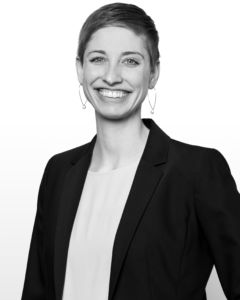 Taylor Stippel joined Jeff Anderson & Associates as an attorney in 2017 after working at the firm as an intern and law clerk since 2013. She is grateful for the opportunity to work with survivors to make the world safer for children today and in the future.
Taylor has advocated on behalf of hundreds of survivors to hold accountable perpetrators of abuse and the institutions that shelter and enable them. Licensed in Minnesota and New York, her practice currently focuses on litigating against religious institutions in upstate New York, including the Roman Catholic Dioceses of Albany, Syracuse, and Ogdensburg. Taylor is leading Jeff Anderson & Associates' advocacy on behalf of survivors in the Diocese of Syracuse Chapter 11 bankruptcy reorganization.
Taylor has been recognized for her work on behalf of survivors, including being designated a Super Lawyers "Rising Star" in 2021 in Minnesota. She is a member of the National Crime Victims Bar Association, Minnesota Association for Justice and New York State Bar Association.
Taylor graduated magna cum laude from the University of Minnesota Law School and is a member of the Order of the Coif. Throughout law school, she worked as a student attorney representing clients in family and employment law matters in the Civil Practice Clinic. She was also a managing editor for the Minnesota Law Review and authored a note published in the Minnesota Law Review's Volume 101. Prior to attending law school, Taylor graduated summa cum laude with a bachelor's degree from Michigan Technological University. Taylor spends her free time with her husband in their backyard, ensuring that their mischievous dog doesn't cause too much of a ruckus.
Taylor Stippel Bar Admissions: